EGG HARBOR–In a collaborative program with researchers from UW-Oshkosh, Egg Harbor Marina will be home to a Seabin as part of a Clean Marina pilot program.
According to a Facebook post from the Egg Harbor Green Tier Task Force, through the pilot program, students will be able to come to the marina on a regular basis to empty the Seabin for research and educational purposes.
The Seabin is a trash skimmer. It is equipped with an electric submersible pump located underneath the unit. Man made trash, organic waste and oil films are sucked in from the top of the unit where they pass through a mesh basket that retrieves them. The Seabin then pumps out clean water while keeping the polluted items inside.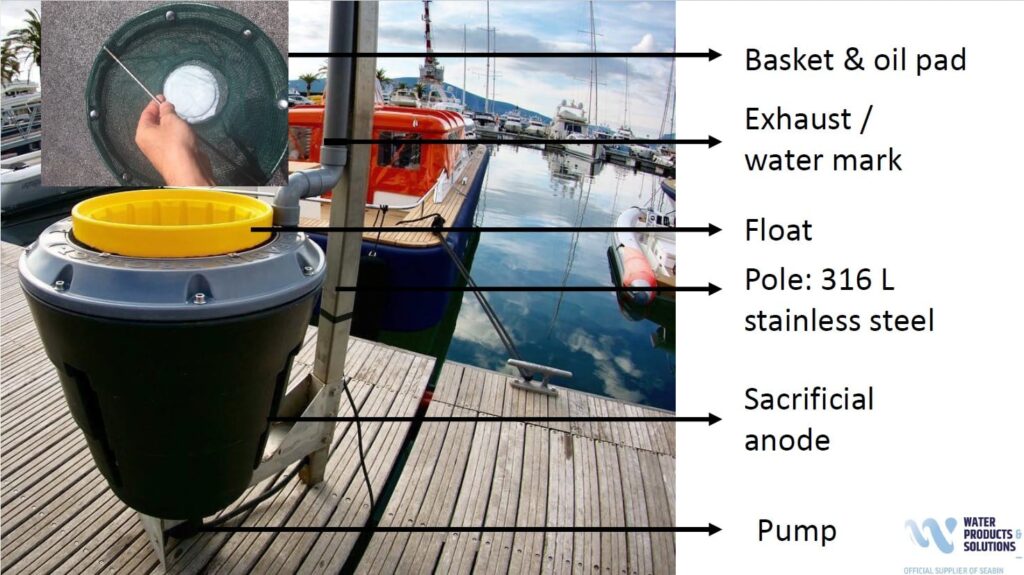 The Seabin will collect macro plastics, such as: bags, bottles, straws, cups, cans, food packages, cigarette filters, Styrofoam beads, etc. It will also be able to collect micro plastics that are greater than 0.08 inches and microfibers. Organic waste, like leaves, light algae, small branches, etc. will also be collected. It will be able to collect oil films as well, thanks to an oil absorbent pad at the bottom of its mesh basket.
The Seabin's basket has a capacity of 45 lbs. One Seabin retrieves on average 8.5 lbs. of trash per day (1.4 tons per year). Each oil absorbent pad retrieves on average 0.5-0.8 gallons of oil from light oil spills.
Seabin is placed in strategic spots where wind and currents drag man made trash, organic waste and oils in. Ports and marinas like Egg Harbor's are ideal locations because Seabin is the most efficient in calm waters with a current less than 1.5 knots, waves that are less than a foot and are near an available power source.
Technologies can only mollify the impact of marine pollution. The only actual solution is to stop the flow of pollution entering oceans and lakes. Universities like UW-Oshkosh use Seabin as a research station for waste characterization. They quantify and analyze the marine litter retrieved. The data collected is then used by non-governmental organizations to raise awareness about plastic pollution and change mentalities by creating educational programs, organizing prevention campaigns and lobbying to change environmental laws.
Seabin will give the Egg Harbor Marina the chance to be greener and cleaner while also providing students with a great opportunity to learn.